Chadwicks Kit Out Competition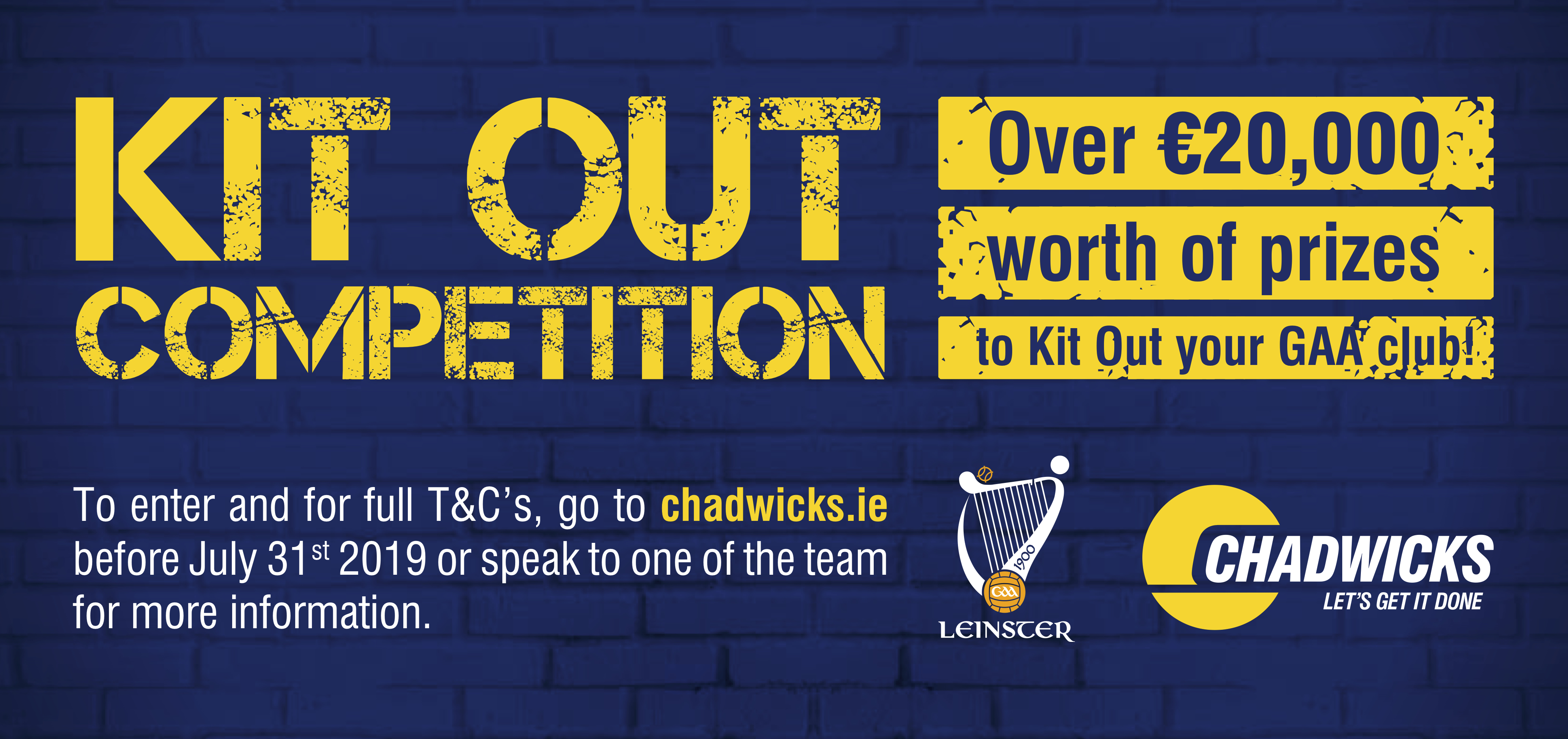 This Summer Chadwicks and Leinster GAA are teaming up to assist Clubs looking to carry out work on their Facilities. To launch the new sponsorship of Chadwicks Club Hurling League, Chadwicks are on the search for Clubs who are wishing to upgrade/renovate their Facilities.
Is there work around your club that you want to do but just can't afford? If so then Chadwicks are here to help. Read below for full details on how your club can have this Cost taken off them.
  What You Win

                                                                   
Chadwicks is giving over €20,000 in prizes to clubs all over Leinster to give their clubhouse a makeover.
The Chadwicks Kit Out Competition will award one GAA club in Leinster with €10,000 worth of products from your local Chadwicks. Alongside this there will also be the chance for 11 Individual Club Winners from all Counties. These individual winners will receive a prize to the value of €1,000.
If your club has been putting off those jobs that just need to get done in their changing rooms, toilets, kitchen, shower rooms or any area in your clubhouse, now you've no excuse!
  How To Enter

                                                                    
1) One of your club representatives should fill the online form below and explain why their GAA club should win, answering each question below in 500 words or less.
Tell us about your club and the vision for the future?
How does your club positively impact the local community?
Why does your club need this prize and how will it benefit your club?
2) A judging panel will select 12 county winners, one winner from each county in Leinster. This panel consists of a Chadwicks representative, a representative from Leinster GAA and our Chadwicks hurling ambassadors Tommy Walsh, Eamon Dillon, and Collette Dormer.
3) 11 of these clubs will win €1000 worth of Chadwicks products to improve their facilities.
4) The top three scoring entries will then be shortlisted and assisted in creating a video showcasing the work they will carry out if they win the overall prize.
5) These three videos will be voted on by the public. The video that earns the most votes will win the overall prize of €10,000 worth of Chadwicks product.
6) Entry into the competition is open to all registered GAA Clubs in the 12 counties of Leinster. So if you are a GAA club or GAA club member in Carlow, Dublin, Kildare, Kilkenny, Laois, Longford, Louth, Meath, Offaly, Westmeath, Wexford or Wicklow this competition is for you.
7) Strictly one entry per club.
8) Make sure you fill the form below before 31st of July 2019 and Good Luck!