St Kieran's & Dublin North Into Top Oil Schools Hurling Final
Top Oil Leinster P.P. Schools Senior Hurling 'A' Semi-Finals
Reigning champions St Kieran's College and Dublin North will contest this season's Top Oil Leinster P.P. Schools final, after deserved semi-final wins on Saturday, 10th February.
Mullen Leads The Way For Reigning Champions
St. Kieran's College, Kilkenny 2-13, St. Peter's College, Wexford 2-8
by Ronan Fagan
A quick-fire second-half Adrian Mullen goal propelled defending champions St. Kieran's College, Kilkenny past the determined challenge of St. Peter's College Wexford and into an eight successive Top Oil Corn Uí Dhúill Leinster Schools Senior Hurling 'A' Championship final after Saturday's semi-final at St. Patrick's Park, Enniscorthy.
2015 finalists St. Peter's appeared to be mounting a real threat to last year's All-Ireland runners-up when fighting-back from a deficit of 1-3 to 0-1 after ten minutes to be on terms at the break (1-6 apiece).
However, St. Kieran's were re-energised by that early second-half breakthrough and, aided by the wind, they largely controlled matters thereafter as their quest for the provincial four in-a-row extends.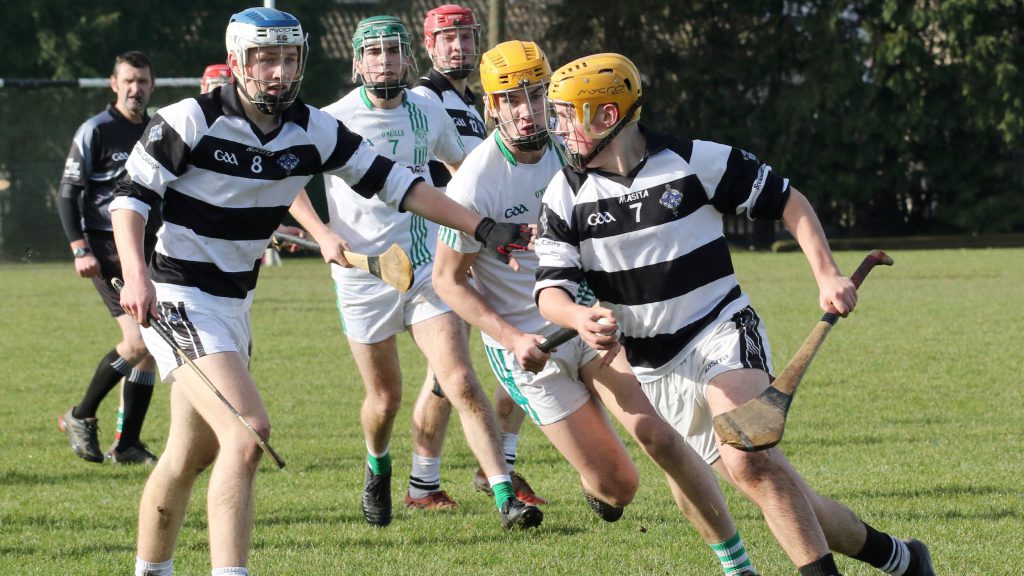 On a dry day, but on a sticky surface, the title-holders made the early running to burst clear by 1-3 to 0-1 with the aid of a fifth-minute goal from full-forward David O'Carroll after he was fed by Adrian Mullen, who featured amongst the early points together with Eoin Cody and Eoin O'Shea.
But St. Peter's soon began to impose their will on proceedings as centre-back Michael Codd and midfielder Philip Dempsey came to the fore to make matters extremely intriguing.
Sharpshooter Ross Banville was prolific for the Wexford boys, producing a bunch of points before further invigorating their challenge when latching onto a long delivery from Philip Dempsey to bat to the net and level matters after 23 minutes (1-5 apiece). And a late exchange of frees between Cody and Banville kept things delicately poised at the interval.
But a harmless looking throw-in within a minute of the re-start led to a telling breakthrough for the Kieran's, when Adrian Mullen forced the ball to the net, before points from David O'Carroll and Eoin Cody (2) had them suddenly striding clear by 2-9 to 1-6 after 42 minutes. In fact, O'Carroll had also gone close to adding a further goal only for the ball to roll off an upright.
St. Peter's lifted the siege to gain a potential lifeline when Ben Stafford was impeded at the expense of a penalty midway through the closing-half. But Ross Banville's powerful shot pinged off an upright much to the relief of the Kieran's, who held strong.
There was some consolation for St. Peter's in added-time when Jake Nobbs forced the ball home after Banville had dropped in a free. But St. Kieran's were already safely on their way to another final appearance.
St. Kieran's College: Dean Mason, Tommy Ronan, Conor Murphy, Mark Nolan, Diarmuid Phelan, Jesse Roberts, Luke Murphy, Killian Egan, Eoin O'Shea (capt., 0-2), Adrian Mullen (1-4, 0-1 f), Jamie Young, Ian Walsh, Daithí Barron (0-2), David O'Carroll (1-1), Eoin Cody (0-4, 2 fs, 1 '65).
Subs: George Murphy for Daithí Barron; Eoghan Moylan for Ian Walsh; Ciarán Hogan for Eoin Cody; Jeffrey Coyne for David O'Carroll.
St. Peter's College: David Pettitt, Dylan Lyne, Ben Maddock, Ryan Furlong, Billy Dunne, Michael Codd, Shane Doyle, Jack Devereux (capt.), Philip Dempsey (0-1), Conall Clancy, Ben Stafford (0-1), Jake Nobbs (1-0), Ross Banville (1-6, 0-1 '65, 0-3 fs), Brian Deeny, Adam Cantwell.
Subs: (temp., Cillian Gahan for Adam Cantwell); Cillian Gahan for Brian Deeney.
Referee: Patrick Murphy (Carlow).
Well-Taken Goals Put Dublin North In Driving Seat
Dublin North 3-12, CBS Kilkenny 0-18
By Brendan Minnock
Early goals in each half drove Dublin North into the Top Oil Leinster Schools Senior Hurling 'A' Championship final at Portlaoise on Saturday.
The combination side rocked CBS Kilkenny with two unstoppable shots to the net in the opening five minutes. And despite falling behind before half time, a third goal immediately after the restart put Dublin North in control again.
The winners – with players from 11 schools in their starting 15 – were the better balanced team and deserved their victory against a CBS Kilkenny side that was over-reliant on free-taker Conor Drennan for scores.
Centre-forward Drennan finished with an impressive tally of 0-13, all but one of which came from frees. He hit 0-8 of their 0-10 tally in the opening 30 minutes and it took a superb save by a Dublin North defender to prevent him adding a goal from a 22 metre free in the 19th minute.
But last year's beaten finalists struggled in attack against a Dublin North defence which featured sturdy displays from Andrew Dunphy and Kevin Burke in the central positions.
The inclusion of Dublin North & Dublin South in the 'A' Championship in recent years has assisted in the development of hurling in the capital and this year is the first year that either of them reached the decider. Previously, a combined Dublin Colleges side were Leinster Champions in 2001 & 2008.
It appeared that Dublin North were intent on raising a green flag as early as possible. Conor Berrigan and Cian Derwin supplied the key scores after determined build-up play from centre forward Lee Gannon on both occasions.
And while Conor Drennan kept CBS Kilkenny in touch from placed balls, Dublin North also had an excellent free-taker in midfielder Michael Murphy, who contributed three points in each half.
But with the wind in their favour, CBS Kilkenny turned a 2-2 to 0-4 deficit after 21 minutes into a 0-10 to 2-3 interval lead. Midfielder Joe Sheehan, with 0-2, was their only other scorer in this period.
Their lead didn't last long, however, as substitute Billy Ryan made an instant impact for Dublin North with a well-taken goal only seconds after the restart.
They pulled further clear with points from Sean Currie and Conor Berrigan and had built up a six point advantage (3-9 to 0-12) at the three-quarter stage.
CBS Kilkenny didn't concede defeat and as Drennan continued to raise white flags, they reduced the gap to only three points with six minutes remaining. Scores were then added by Michael Murphy and Billy Ryan for Dublin North, and Drennan and Cillian Timmons for CBS Kilkenny.
However, in a frantic finish, CBS Kilkenny couldn't break through for the goal they required to force extra-time and so, for only the second time this decade, it won't be an all-Kilkenny final.
Dublin North: John Rooney; Jack Fagan, Andrew Dunphy, Tommy Kinanne; David Phelan, Kevin Burke, Conor Scully; Michael Murphy (0-6, 4f, 1 '65), Sean Foran; Sean Clerkin, Lee Gannon, Sean Farrelly; Conor Berrigan (1-1), Sean Currie (0-2), Cian Derwin (1-2).
Subs: Billy Ryan (1-1) for S Farrelly; Enda O'Donnell for C Scully; Liam Foley for S Foran.
CBS Kilkenny: David McCormack; Mickey Byrne, Barrie Lawlor, Mickey Butler; Luke Hogan, Liam Stynes, Cillian Timmons (0-1); Shane Staunton (0-1), Joe Sheehan (0-3); Oisin Murphy, Conor Drennan (0-13, 12f), Conor Heary; Jamie Ryan, Tadhg Butler, Sean Kenny.
Subs: Sean Boyd for S Kenny; James Dwyer for L Hogan.
Referee: Anthony Stapleton (Laois).