Longford C&G's Youth Athletic Development
Longford GAA Coaching & Games Team have this week launched an impressive Youth Athletic Development Programme. They aim to provide youth players and coaches with the tools and support through which they can engage in a progressive programme of development at a time that suits them.
Speaking about the thinking behind the programme Longford Games Development Manager Damien Sheridan said it emerged from the staff engaging with club coaches – "The games development team are constantly engaging with club coaches across the county and listening to their needs, this programme was a direct result of some of the feedback. The major thing we wanted to do was provide the club coach with all the content and support that they would need so they in turn could focus on rolling it out and engaging with their players."
The programme itself is targeted at 13-17 year olds of both codes (hurling and football) who are at a key stage in their development, development which is under increasing pressure due to the current situation. "The target audience for this programme are young people who now spend a majority of their day on a laptop due to home schooling and then following that with these darker days it is increasingly difficult to find time or motivation to exercise. That is one of the main reasons why we deliver the sessions in a pre recorded manner. In doing so players can engage with it a time that suits them or their club team, while it also removes any difficulties that players may have around following live sessions due to connectivity etc."
When looking at how to really engage with the selected demographic the Longford Coaching team turned to their Senior Inter County players "Each session is hosted by one of senior inter county players which is a huge asset to us. This will be great for younger players to train alongside the county lads and hopefully it will provide a small bit of inspiration to a few of them for their own futures. It was a massive help in getting these sessions over the line so a huge thanks to all the players who gave up their time to do them."
The programme itself will be based around 2 exercise and 2 running sessions a week. With each of the sessions being progressive in nature so that the player will be continually improving as the sessions go by. At the end of each session is a challenge, which it is hoped can be used by coaches to create a bit of internal competition amongst their teams.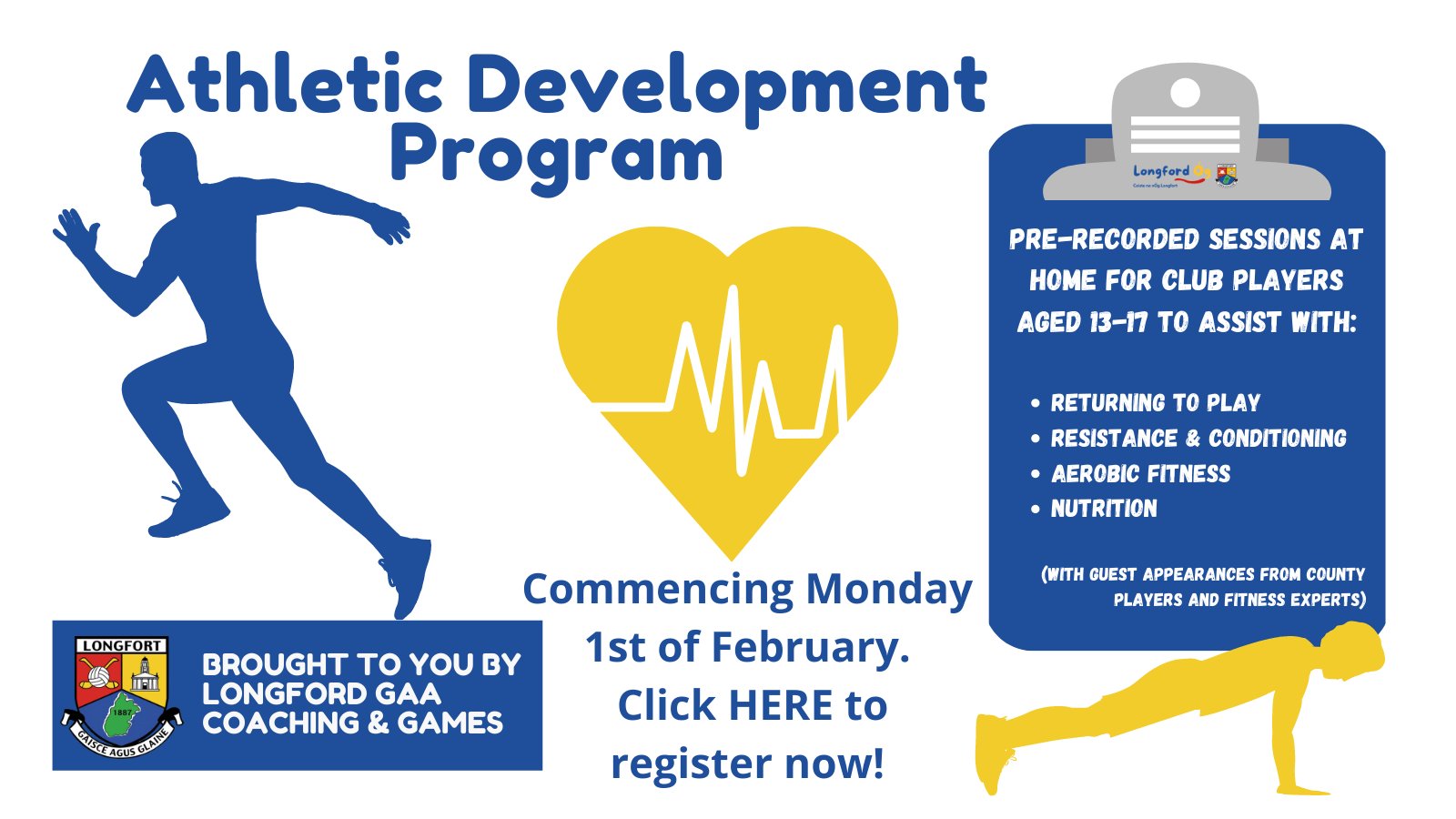 While it is primarily and athletic programme the other areas of the players development are not neglected. "The age group you are dealing with are not always the most receptive to the off field side of things of nutrition or stretching and that. The last thing we wanted to do was provide something that would not grab their attention, so what we are doing is incorporating small snap shots from these areas into the sessions. For instance some of the sessions have a 3 minute rest period during them, so for example here we have inserted a small talk from nutritionist Clare Farrell or psychology coach Tony Óg Regan, just to hit on one or two key points before the player returns to the exercise. A huge thank you to both of those also for lending their considerable expertise to this programme. We think this will be useful in giving them small take aways over a longer period of time as opposed to trying to get them to engage in a longer talk on these topics."
All of the sessions can be found on Longford GAA's YouTube Channel here. However, the full written programme can only be obtained by registering for the programme Sheridan would encourage anyone following the sessions to this "By registering you will get the full programme in it's entirety with all the supports and tools the player needs to progress. Currently we have almost 400 signed up throughout the county and we are hoping this will grow so that as many players as possible can benefit from the programme."
You can register for Longford GAA's Youth Athletic Development Programme Here.