Bloody Sunday Remembrance – Tommy Whelehan
As we commemorate 100-year anniversary of Bloody Sunday on November 20th there was a Westmeath interest on that day. Thomas (Tommy) Whelehan was an umpire at the match between Dublin & Tipperary
Tommy was born in Rochfortbridge , Co. Westmeath. He had one brother (Paddy) and one sister (Mary) who later emigrated to America. The family ran a pub & farm. Their mother died in 1909 when Tommy was just 13 and their father died in 1912 when Tommy was just 16 and Paddy 18. Tommy went to work in Dublin during the war and Paddy took over running of family business.  While in Dublin Tommy played club football with the C J Kickhams club (amalgamated with Ballymun in 1960's) and represented Dublin. Tommy eventually returned home to Westmeath, had he not he would likely have been involved with Dublin team that fateful day.
Tommy travelled to Dublin for match on Bloody Sunday which was a challenge match between the two top teams, Tipperary and Dublin. In early morning raids 15 had been killed by IRA and people were being advised not to attend Croke Park that day. It was envisaged that there would be reprisals, but no one expected what happened would occur.
Tommy was advised not to carry ID as whole Dublin was tense that morning and afternoon. On arrival at Croke park the designated umpires hadn't turned up and as the officials knew Tommy asked him to step in. He was umpire on goals where Michael Hogan of Tipperary was shot and was one of first to his assistance. Michael Hogan was one of 14 killed by Black & Tans that day.
The events left a lasting impression on Tommy and it was something he rarely spoke about for rest of his life. There is a recollection locally that his brother Paddy may have been a linesman at earlier club match played before the main match.
Tommy stated his playing career initially with Rochfortbridge Warriors a club where his brother Paddy was one of founder members (1910). In 1914 they won the County Junior championship with both playing. They both won Senior County Championships medals in 1914 & 1915 with club. They both played for County team in 1918 that defeated Offaly. The war years saw little Football and it was 1923 when next Rochfortbridge were in Co final with both lads again on winning side defeating Kilbeggan in Final. Both lads played County again that year.  Tommy along with Paddy and later Paddy's son Eddie were the only family that had members on all county titles won by Rochfortbridge.
Tommy married Georgina Rowan in 1925 and ran Distillery Inn in the square in Kilbeggan which is still there to this day. They had two boys Clement (Fr Mark Whelehan) the eldest and Raymond. The pub was a great gathering point on match days and lads remember being warned not to slag Warriors if stopped en-route or returning from games. When Kilbeggan GAA club played away, many players travelled in "Count" Brennans taxi which was always parked outside Whelehans.  Tommy had charge of the jerseys which he packed in a suitcase and placed in the boot of the car.
Tommy played for Kilbeggan after moving and Kilbeggan won County Titles in 1925, 27, 30,31 & 35
Sadly, Georgina contracted TB and passed away when boys were just 5 & 3.
Tommy later worked in Locke's Distillery and later still bought a small shop on Dublin road. He was ably assisted there by Nan Moore who still lives close by. The currently Leinster Pro Pat Lynagh was a customer there and remembers being sent from school for 'messages' there for his teacher. He was chairman of Local Hall Committee for many years. His eldest son Clement was ordained Fr Mark Whelehan into Passionist order and currently resides in Minsteracres Monastery and Retreat Centre in Durham in North East England. He is 94 years old and still full of joys of world and an inspiration to all he meets. His youngest son Raymond (Ray) settled in Roscommon and married Vita. Tommy enjoyed the weekly visits from Ray accompanied by any of the 7 surviving grandchildren of whom he was very proud of. His grandchildren would have spent happy summers with him in Kilbeggan. Ray sadly passed way in 1999.
In a link to Westmeath today his son Paul moved to Athboy in Meath and went into partnership with current Westmeath Co Board chairman Billy Foley. Paul and his wife Noreen are volunteer Stewards with Croke Park and both are lifelong involved with GAA. Ray's eldest son Gerry is married to Patricia. Patricia worked as an NGO in Africa with Therese Keenahan adopted mother of current Westmeath player Boidu Sayeh.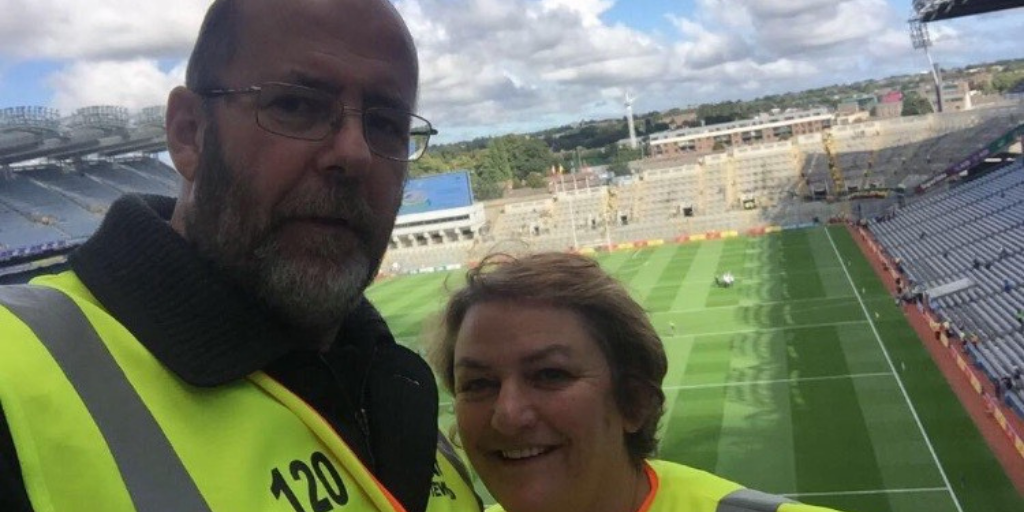 Throughout his life Tommy faced tragedies and witnessed the awful carnage of Bloody Sunday but the GAA were a positive influence and support throughout his life. Tommy passed away in 1975 and he is buried with his beloved wife in Glasnevin cemetry ."The most beautiful people we have known are those who have known defeat, known struggle, known loss, and have found their way out of the depths. These persons have an appreciation, sensitivity and an understanding of life that fills them with compassion, gentleness, and a deep loving concern. Beautiful people do not just happen "Elizabeth Kubler Ross"
Ar dheis Dé go raibh a hanam.