Wexford Celebrate Anniversary Of 4-In-A-Row
WEXFORD'S UNPRECEDENTED FEAT STILL RESONATES 100 YEARS LATER
by Ronan Fagan 
2018 sees Wexford commemorate the 100th anniversary of the county's unprecedented four-in-a-row All-Ireland senior football championship titles, 1915-1918.
This achievement was utterly remarkable when considering Wexford wasn't exactly a footballing hot-bed at the time.
Indeed, the hurlers were riding the crest of a wave having captured the 1910 All-Ireland crown, while the footballers' struggles were exemplified by a 4-4 to 1-3 first-round humbling by Wicklow in 1912.
So when the footballers then re-emerged in 1913 to begin an unbeaten streak in Leinster which would extend through to the Leinster semi-final of 1919, and string together the historic quartet of All-Ireland titles in the process, a trend was seriously bucked.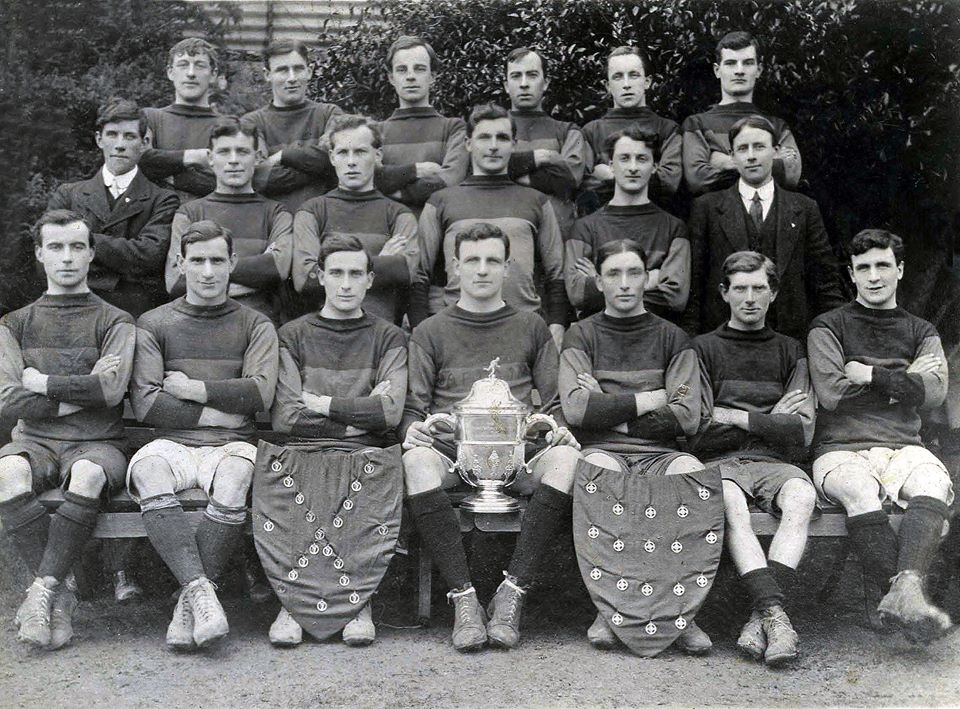 It was essentially akin to a novice climber struggling to gain even the merest purchase on a cliff-face before suddenly acquiring the aptitude of the greatest mountaineer ever.
The Wexford footballers' exploits didn't dim the county's hurling ambitions one iota, as when the footballers were completing a four-year clean-sweep of All-Ireland titles in 1918, the hurlers were also contesting that season's All-Ireland final (losing to Limerick).
But as regards the footballers' phenomenal deeds, it is quite intriguing to wonder what might have been had a stroke of enormous fortune not favoured Wexford in a first-round Leinster championship encounter in 1913 against Laois, who, incidentally, the present-day Wexford crew will launch their 2018 championship against on May 12th next at Innovate Wexford Park (7p.m.).
That 1913 meeting of the sides at Jones's Road (to be known as 'Croke Park' from 1914) saw Laois on the brink of winning 1-3 to 0-4. But Wexford forced a late free and Laois packed their goal. As free-taker Aidan Connelly swung at the dead-ball, the Laois players soared into the air in anticipation of trying to prevent the ball from going over the crossbar. But Connelly's boot got stuck in the sod and only managed to apply the merest of touches to the ball, which instead trickled along the ground and under those soaring Laois players to locate the net and snatch victory.
That sparked a tremendous sequence in the history of not alone Wexford GAA but the game in general, and such is the magnificence of their four-in-a-row All-Ireland football feat that it has never been surpassed but only matched on two occasions, in both instances by Kerry (1929-32, and 1978-81).
It could have been a five or even six All-Irelands on the trot though as Wexford went close against Kerry in the season-ending games of both 1913 and 1914, the latter after a replay. Kerry were actually found to have used an illegal player in the 1914 final. But the Wexford players opted not to challenge that in the boardrooms.
Instead they looked to do their talking on the pitch, and after adding a third successive Leinster title in 1915, expert free-taker Jim Byrne notched a goal and a point from dead-balls at a critical stage of the second-half in the All-Ireland final to help Wexford to eventually crack Kerry (2-4 to 2-1) as Wexford bridged the gap to their last outright success back in 1893.
Because of a Kerry financial dispute with GAA Headquarters, the Kingdom weren't seen in championship for the remainder of Wexford's glorious run. But Wexford did continue to dominate Kerry in various exhibition games during that era, including one in 1918 at Croke Park which attracted an estimated 12,000 attendance.
In Kerry's absence, Mayo became the first-ever Connacht side to contest the football All-Ireland decider when they won through in 1916, while Clare made the show-piece final in 1917, and Tipperary followed in 1918, although that year's final didn't actually take place until February 16th 1919. The delayed finish was largely as a consequence of team training and competition schedules being impacted upon adversely in those years by policing measures undertaken by the then-ruling British authorities to try to quell civil and political unrest after such outbreaks as the Easter Rising of 1916.
But bolstered by such genuine GAA greats as Seán and Gus O'Kennedy, Paddy Mackey, Jim Byrne, Rich Reynolds and Aidan Nolan amongst others, Wexford rose above all those difficulties to transcend Gaelic football's top achievers and leave a lasting impression which continues to amaze a century later.