Former Dubs Star Shane Ryan On The Leinster Senior Football Championship
No-one is going to pretend that Dublin are not raging hot favourites for another Leinster title this year, but the championship still has the potential to provide exciting games, and it's a positive sign that some of the other counties seem to be on an upward curve.
All three games this Sunday should be competitive and the quarter-finals involving Meath and Kildare and, of course, Westmeath versus Offaly will bring out big crowds over the next few weeks.
Looking back on the league, out of the six teams that got promoted from Divisions 2, 3 and 4, four of them were from Leinster, and Meath only narrowly missed out on getting back up to the top flight. Obviously, Westmeath and Wexford were only coming out of Division 4, but it will still add to their confidence going into the championship. Leinster needs more teams at a higher level and this is a step in the right direction.
On the other hand, for the counties that received a set-back in the league – the most obvious being Laois – they just have to look on it differently and view the championship as a fresh start.
From Dublin's perspective, while they would have been disappointed that their long unbeaten run came to an end against Kerry, I'd say they'll easily put it behind them and focus on the next challenge.
All the players would have had a couple of weeks off since for the club championship, which was a chance for them to get away from the county scene and now they will be back refreshed.
When you look at the Dublin team, and this period of dominance they have enjoyed, they just tick so many boxes, they do so many things right, they have set the standard that other teams are trying to reach. Kilkenny have achieved it in hurling, Kerry and Tyrone have achieved it in football in the last 15 years, and now Dublin are taking it to an even higher level.
When I was playing, obviously we had some very good runs in Leinster, but we never managed to dominate at All-Ireland level and even allowing for the defeat to Kerry, there's no sign that this Dublin side are going to be easily dislodged.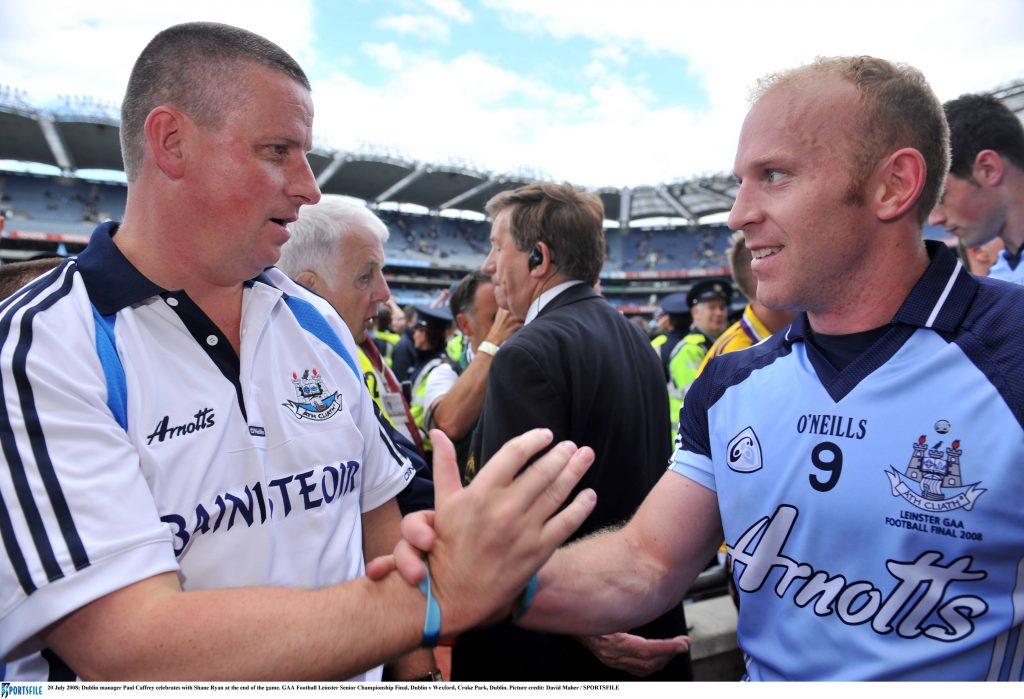 Louth v Wicklow
Turning attention to the three games in the province this Sunday, my former Dublin team-mate Johnny McGee brings his Wicklow side to Parnell Park to take on Louth.
I played for years with Johnny McGee, and he's a competitive fella; he wants to do his best and wants his team to do their best. He won Leinster titles with Dublin and with his club, Kilmacud Crokes, so he knows what's required.
Wicklow were inconsistent in the league and while Johnny will have them well prepared, I think they could find it tough against Louth, who have completed back-to-back promotions.
We all remember Colin Kelly when he was one of the Louth stars and I'm very impressed with his approach as a manager and the style of play Louth have adopted.
Colin really seems to have galvanised Louth and while he won't want his players looking past the first round, they'll be licking their lips at the chance to play Meath again, especially after losing to them last year. They're certainly moving in the right direction and while Wicklow will give it a lash, I expect Louth to come through.
Longford v Laois
I'd say I wasn't the only one surprised at Laois going down to Division 4. With the quality of players they've had in recent years and indeed still have, they could be looked on as under-achievers.
But I know what can happen when you have a run of bad luck, they had injuries and players sent off in some league games that they only narrowly lost and sometimes it's hard to break out of a downward spiral.
But they are one of the counties that will be determined to turn things around and show everyone what they are capable of.
Longford survived in Division 3 and have put it up to some very good teams in recent years. Even in the qualifiers last year, to beat Down in Newry and Monaghan in Clones is probably something they didn't get enough credit for.
Of the three games in Leinster this weekend, this is the hardest one to call. If Laois get a big support out, home advantage could make a difference and I think they still have enough quality players to come through.
Carlow v Wexford
Seamus McEnaney has a lot of big game experience with Monaghan and Meath, so I expected him to make an immediate impact in Wexford. 'Banty' has already created a buzz in the county, obviously the players have to step up as well, and I'd expect them to continue that momentum on Sunday.
They had gained promotion with two games to go in Division 4, although the performance in the final against Westmeath could be a worry. They have to hit the ground running in Carlow and get back to the form they displayed in the first four or five rounds of the league.
I know Carlow are striving hard to win a game in the Leinster Championship and this is certainly a chance for them to take a scalp. They beat Wicklow in the qualifiers in Netwatch Cullen Park last summer, and for a small county, they will have a passionate support behind them.
At the same time, I think Wexford have the talent to edge this one and then welcome the Dubs to the south-east on the first Saturday in June.